Oil on canvas

Limited edition prints available

"The Doctor" and Casey Stoner take it to the limit and beyond on this mighty track at Laguna Seca. In this epic struggle, they leave the rest of the pack behind. Here, Rossi actually leaves the track and the two riders go down the corkscrew, neck and neck. The battle concludes when Stoner falls from his bike as he takes turn 11 entering the pit straight. However, such is the lead that both of these riders have built up, Stoner re-mounts and retains his second place.

A race I'll never forget!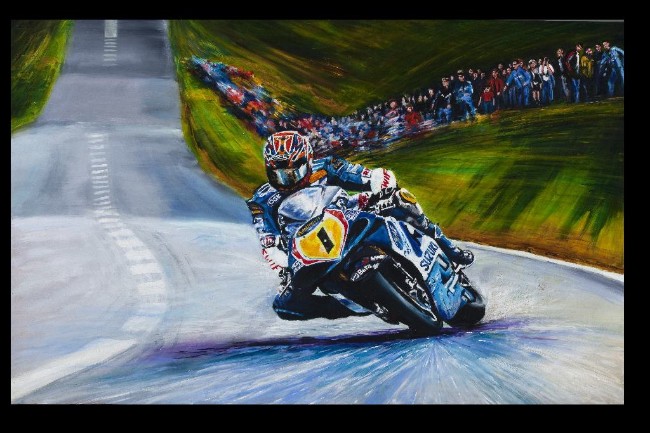 D.J. at Creg-Ny-Baa Senior TT 2002

David Jefferies dominated the 2002 TT week. He commenced by winning the Formula 1 TT, completing the last twelve miles with only one gear, then winning the Production 1000 race.

The remaining race, which everyone wants to win, is the Senior TT. He is portrayed at the Creg where his sister, Louise, showed him the pit board. Not only did David win this race (bringing his total tally of TT wins to nine), he became the only man in history to win three TTs in a week, on three occasions and in three consecutive years. On his second lap he set an absolute lap record at 127.29mph, meaning he was the first man to lap the course at 125mph, 126mph and 127mph with a new race record of 124.74mph- the undisputed maestro!
Oil on board
Limited edition prints available